Choose precise, durable, cost-effective cleaver tools from the only fiber optic manufacturer with extensive diamond and tungsten carbide application experience.
Fiber Optic Cleaving Tool Repair
Applied Diamond provides cost effective adjustments and repairs for your cleavers. Call us for cost effective replacement parts and adjustments for your cleavers. We have experience making replacement diamond and tungsten carbide parts for nearly all cleavers on the market including those shown below.
FK-11, FK-12 HORN ASSEMBLIES

Replace the diamond edge rather than the entire horn and save money!
We cost effectively replace the diamond part on the horn assembly for the York & Ericsson FK-11 and FK-12 cleavers.
Replacement diamond on horn – $185.00
Send the entire cleaver back to us for diamond replacement and
calibration – $295.00
FITEL, FUJIKURA AND FURAKAWA WHEEL CLEAVERS

The edge of the tungsten carbide wheels can be restored for Fitel, Fujikura and Furakawa cleavers:
Damaged wheel returned to Applied Diamond, Upgraded wheel sent to field for installation in cleaver – $195.00
Entire cleaver sent to Applied Diamond for Restoration of wheel, Cleaver
Adjustment and Testing – $ 265.00
FITEL BEAVER CLEAVER

The popular Fitel beavertail cleaver has a ceramic blade that wears out. Replace it with a more durable diamond part.
Field Replacement – $65.00
In-house, diamond replacement of ceramic blade and test – $125.00
TYCO "AMP", MOLEX AND THOMAS & BETTS CLEAVERS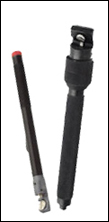 We make replacement diamond parts for the Tyco"AMP", Molex and Thomas & Betts cleavers.
Field Replacement – $65.00
In-house, diamond replacement and calibration- $125.00
PEN SCORING TOOLS
Gem quality single crystal diamonds
60° wedge-shaped cutting edge
Housed in quality pen casing
1.2mm long cutting edge
Length – 5.25″, diameter – 5/16″